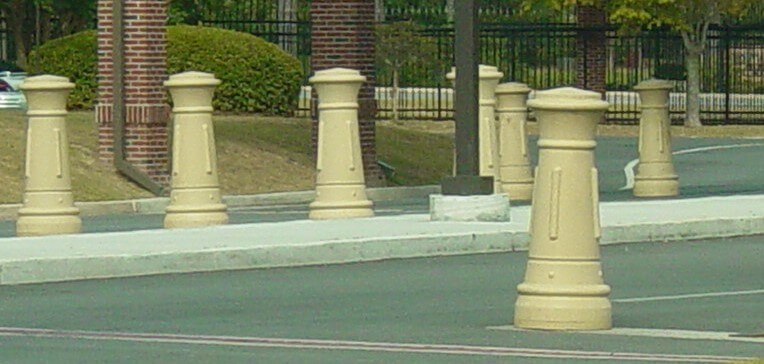 PSP would like to call your attention to the Decorative Plastic Bollard Cap. Since September 11th, crash barriers have become more and more prevalent in both civilian and military applications; however, simply using a plain steel crash bollard isn't always the best nor the most attractive solution. With that in mind, PSP has designed a pleasing alternative that will not only give the highest level of security demanded by our customers but also offer an architectural ornament that will complement any landscape.
Public safety and the security of government buildings have taken on a new sense of urgency. The Decorative Plastic Bollard Cover can provide a simple, secure and cost effective method of protecting the public from accidents and acts of terrorism by providing strong, cost-effective safeguards. When strategically located, the Bollard will give 24-hour protection and there's no need to worry about appearance. Its look of quiet elegance will make an aesthetically pleasing addition to your security. Sand, water or concrete ballast can be added for extra protection if needed. For a quick solution, simply place the empty Bollard Cover in front of a Gate or over a removable steel bollard. The quality construction and heavy-duty appearance will work as a quick deterrent.
The Bollards Cover can also be customized to fit any size, shape or situation by simply measuring your existing steel bollard and calling us with your specific needs. If requested, PSP will also supply the steel bollard to fit inside the Bollard Cover. The Steel Bollard is manufactured in the following sizes: bollard diameters: 6″, 8″, 10″, and 12″; corresponding bollard heights: 36″, 42″, 48″ and 54″. All colors can be ordered although Gray Granite and Tan Granite are the most popular.
You are encouraged to review and update your security needs to see how bollards can increase your protection against any suspected threat. Keep in mind that a minimum of two bollards are needed for protection; not considering this fact could be disastrous. Simply measure your Bollard for the height diameter and we will match it.
NOTE: IT IS IMPORTANT TO NEVER USE JUST ONE BOLLARD.  TWO ARE REQUIRED FOR MINIMUM PROPER PROTECTION.
| Part No. | Item | Plastic Cover Weight | GSA No. |
| --- | --- | --- | --- |
| 5222GG | Gray Granite Pawn | 24 lbs. | GS-07F-9574S |
| 5222TG | Tan Granite Pawn | 24 lbs. | GS-07F-9574S |
| 3819GG | Gray Granite Dome | 24 lbs. | GS-07F-9574S |
| 3819TG | Tan Granite Dome | 24 lbs. | GS-07F-9574S |