The Bunker/Checkpoint is designed to enable the combat troops to secure and hold the specific objective. This unit can be erected quickly and is portable, utilizing the least amount of manpower with very limited engineering support. The 18″ of overhead cover and 360 degrees protection provides the greatest amount of soldier protection and survivability and enable the troops to take care of themselves quickly and adequately.
The Bunker/Checkpoint is designed with the best protection available for our troops while inside. The Sand unit has been tested with 24,000 lbs. ANFO blast as well as live fire tests conducted with 50 cal., 30-06 AP & 155 with no shrapnel or fragmentation. It meets the current NIJ4 Ballistic requirements and this also covers the roof system.
For applications not requiring as high a level of protection, we offer a Ground Bunker. The Ground Bunker has 10 inch thick x 4 ft tall walls that provide 360 degrees of protection. On the non-threat side, there is a walk thru area to allow easier access. When the walls are filled with sand, they will stop up to 7.62 rounds. The roof provides protection from wind, rain and sun. A wind/rain/visibility Shield that attaches with Velcro is available as an option.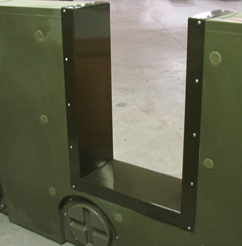 Standard colors are Olive Drab and Desert Tan. An optional bad weather protective cover (P/N 4130) is available. The Bunker arrives with all materials and tools necessary for setup and deployment. Purchases by the USANG, USAF and USA for different applications is ongoing.
Bunker Checkpoint - Sand Filled
| Part No. | Item | Size | Total Weight | Empty Weight | GSA No. | NSN No. |
| --- | --- | --- | --- | --- | --- | --- |
| 4128S | Olive Drab | 8' H x 8.5' W x 7' L | 29,000 lbs. | 1,500 lbs. | GS-07F-9574S | 5419-01-447-4613 |
| 4129S | Desert Tan | 8' H x 8.5' W x 7' L | 29,000 lbs. | 1,500 lbs. | GS-07F-9574S | 5419-01-450-1756 |
Bunker Checkpoint - Water Filled
| Part No. | Item | Size | Total Weight | Empty Weight | GSA No. | NSN No. |
| --- | --- | --- | --- | --- | --- | --- |
| 4128W | Olive Drab | 8' H x 8.5' W x 7' L | 14,000 lbs. | 1,400 lbs. | GS-07F-9574S | 5419-01-447-4609 |
| 4129W | Desert Tan | 8' H x 8.5' W x 7' L | 14,000 lbs. | 1,400 lbs. | GS-07F-9574S | 5419-01-450-1758 |
Ground Bunker - Sand Filled
| Part No. | Item | Size | Total Weight | Empty Weight | GSA No. | NSN No. |
| --- | --- | --- | --- | --- | --- | --- |
| 9672OD-GB | Olive Drab | 8' H x 8' W x 7' L | 10,000 lbs. | 1,500 lbs. | Pending | - |
| 9672DT-GB | Desert Tan | 8' H x 8' W x 7' L | 10,000 lbs. | 1,500 lbs. | Pending | - |
Optional Protective Cover will be fit either sand or water-filled Bunker Checkpoint
| Part No. | Color | Description |
| --- | --- | --- |
| 4130OD | Olive Drab | Bunker Checkpoint Protective Cover |
| 4130DT | Desert Tan | Bunker Checkpoint Protective Cover |