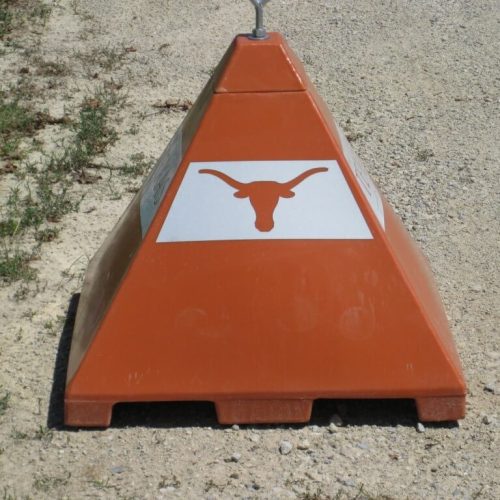 PSP would like to draw your attention to our newest product the Poly/Concrete Dragon's Tooth. Designed as a restrictive movement and traffic control device, this product is formidable, efficient and versatile. Once the need has been eliminated the Poly/Concrete Dragon's Tooth can easily be re-positioned elsewhere or stored for later use.
This product also has the capability of controlling the flow of vehicular traffic. Simply connect the individual Dragon's Tooth(s) together by threading an optional steel chain or cable through the heavy-duty ring hooks on the re-bar retainer posts to create a quick and efficient control system.
Currently, we offer the 2 ft. and 3 ft. sizes. The Poly/Concrete Dragon's Tooth are constructed of heavy-duty Polyethylene. For the 3 ft. Dragon Tooth, it has an approximate empty weight of 40 lbs. and when filled with concrete ballast it has an approximate weight of 1500 lbs. Any color is available upon request to also include customized logo's and designs. All hardware and tools are provided with the order. The Dragon's Tooth eliminates the need to construct wooden forms that can break and are time consuming to fabricate. Simply position the empty Dragon's Tooth in position and fill with concrete, or we can fill with concrete and ship complete. It's quick and easy! This product is a great addition to your overall security plan.
We can ship them filled with concrete or empty and you fill on site. Typically, the 2 ft. Dragon Tooth Barricade's are shipped filled with concrete while the 3 ft. Dragon Tooth Barricades are usually shipped empty and filled on site.
Chain Kit sold separately.
| Part No. | Size | Empty Weight | Filled Weight |
| --- | --- | --- | --- |
| DT222C | 24" H x 24" W x 24" L/td> | 20 lbs. | 450 lbs. |
| DT333C | 36" H x 36" W x 36" L/td> | 40 lbs. | 1500 lbs. |
| CHAIN KIT | | | |